Customer Reviews
Write a Review
Ask a Question
11/01/2020
Shauna M.
Canada
Decent!
They're very thin pads, great for applying toners or making masks out of
10/07/2020
Justine A.
Canada
Effective
Good product, doesn't absorb too much product, but it's very thin, you au use more than 1.
09/19/2020
Lauren
Canada
Perform as promised
These work really well. They are soft, durable, thin, and don't leave fuzz on my face. Definitely use less product than a normal cotton pad.
09/16/2020
Arlette S.
Canada
versatile well-priced cotton pads
Been re-purchasing this cotton pads. thin enough to not to waste product, versatile - add your favourite toner or essence to make ready-to-go pads- also KI have custom-made a face mask just applying to the areas my face needs it using a mix of products work well for me.
07/25/2020
Chelsea G.
Canada
Super thin, great for Essence or Toner Mask.
These cotton pads are super thin. They don't pill or break apart. I would suggest using them for applying toner or essence either by dabbing across your face or as a "mask". They won't work well for makeup remover or miceller water. The only thing that would make them perfect is if they were a little softer. Photo showing size compared to a standard cotton round. Also note the slight sheer-ness of the Pyunkang Yul 1/3 Cotton Pad.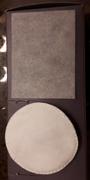 ---
---
Features
The Pyunkang Yul 1/3 Cotton Pad indicates that you only need to use 1/3 the amount of liquid skincare products that you would typically use. Made with pulp and rayon, these pads won't pill and work great when you want to use your skincare products to create intensive hydration. They are also designed to deliver toners or essences to the skin effectively while creating less "product waste".
Individual results may vary
Made in Korea
Size: 160 pads
How to Use
General Use: Using 2-3 pads, apply 1/3 of toner on the pads and pat on face until product(s) are absorbed into the skin.
Intensive Moisture Use: Apply adequate amount on the pad and apply onto the skin. Remove after 10 minutes.
Material
Pulp & Rayon
---